Faux leather has increased its popularity for a various reasons.
Faux leather looks like leather. It is a fabric made out of materials other than leather. Faux is the French for 'fake'. So it is fake/ artificial leather. It is cheaper than natural leather and much easier to work with in many cases. In the interior design world we would use it for: Sofas, Chairs, wall-coverings, it is also used to cover, doors, table-tops, etc…
There are two primary versions of faux leather include PVC (hard to clean, not breathable) and PU (polyurethane). PU is synthetic leather and is generally preferable to the PVC because they are more environmentally friendly, breathable, and cleanable than PVC.
Unlike natural leather, Faux Leather can be manufactured in a variety of colors, styles, sheens, and patterns because faux leather is a synthetic (or at least an altered natural) material. This is useful when working with a specific and/or tight color palette or design scheme.
Faux leather is highly durable, without the natural constraints and weaknesses of real animal hide. Furthermore, faux leather's synthetic-ness allows it to resist cracking over time, unlike real leather, which must be conditioned regularly to keep supple.
With that being said, real and faux leather both have their advantages and disadvantages to suit your budget. Some people prefer faux leather knowing that no animals were harmed in the making of the material.
Check out some other examples of leather used in the home below: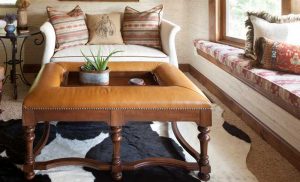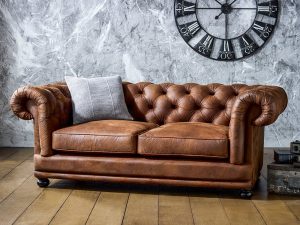 Here kreative House provides the most popular designs around the world and could become an essential part of your design room too.
Please feel free to contact me if you need any further information. Please let me know if you have any questions.
Mobile/WhatsApp No: +91 9963-277-542
Email: info1@kreativehouse.asia
Address 1: Flat No.302, 1st Floor, Sree Homes, Plot No.51, M.B.Society, Hitech City Main Rd, Hyderabad, Telangana 500084.
Address 2: Regus Pune Metropolitan Business Centre Pvt Ltd, Baner, Pune 411045
Subscribe to Kreativehouse:
YouTube: www.youtube.com/channel/UCLYGdZagVC7I8vSaS4-7iyg
Like us on Facebook: www.facebook.com/kreativehouse.asia
Follow us on Linkedin: www.linkedin.com/company/kreative-house
Follow us on Twitter: www.twitter.com/KreativeHousee
Follow us on Pinterest: www.pinterest.com/Kreative_House
Follow us on Instagram: www.instagram.com/kreative_house_hyd_pune
View Blogspot: www.kreativehousehyderabad.blogspot.com