How to Choose a Right Architect: When you decide to build a new home the first step you take is selecting an Architect. Selecting an architect isn't a decision to be taken lightly. The person you select will be the brains behind your project, an invaluable problem solver, a good listener, and the one keeping your budget on track.
Here are few points you should consider before choosing an architect…
Approach towards your project:
Architects may have a beautiful portfolio and great references, but that doesn't indicate how they'll approach your project. During initial meetings, ask about their vision for your project like
The answers are important, but you'll also want to use these early conversations to make sure you have a good rapport and that your personalities are compatible.
"You can hire any number of architects who'll come up with creative solutions to your job," says Pittsburgh architect Gerald Morosco, author of the book "How to Work With an Architect." "The differences are in how well the architect matches his design to your taste and your lifestyle."
Signature style:
Most of the architects can design different styles of the building depending upon the client requirement and taste.
But some have an overriding design sensibility that they bring to every project. For example, an architect might specialize in sleek modernism, a beach cottage feel, or reinterpretations of historic houses.
By talking about the architect's signature style up front, you can decide whether they are right for you or not.
Services:
Apart from designing the Architect can provide more service like
Complete project Management services
Help you hire a contractor
Check the contractor's work as the job proceeds
Make design adjustments as the work progresses
Review invoices to ensure that payments never get ahead of the work
Ask the architect about the kind of services they provide. It is better to hire an architect who can provide the design as well as execution services. So, that he will be the single point contact for you from start to completion of the project.
Charges:
Charges of an Architect are based on different factors like the type of service, Area of the plot etc… Different Architect has different payment structure. So, discuss the payment structure of the Architect at the initial meetings, so you will have the clarity about the schedule and can manage your budget accordingly.
Drawings: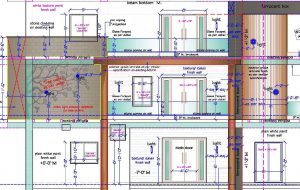 Ask the Architect about the type of drawing they provide. Whether they provide only 2d drawings or will they also provide 3d drawings.
Reading a standard 2d plan isn't easy. Even if you know where the walls, windows, and doors are, you may not visualize how the design will look in the real.
So, check with the Architect if they provide both 2d and 3d drawings.
Compatibility:
The initial meeting is most important because it is where you will get to know about the firm and architect, and decide whether you can work with them or not.
You want someone with whom you feel comfortable. During this meeting, it's best to communicate your ideas clearly and ask lots of questions. Find out the architect's approach, fee schedule, deliverables, and what they think is important about your project.
First impressions are important here, as you are evaluating whether you and the architect have a good rapport, in order to be able to work together for your residential project. This is probably the most intangible—and important—part of the entire process. Assess whether the architect listens to your needs and confirms that he or she understands them.
Need help for your next Project ??
Contact kreative house  ph :09963277542
"Kreative House" is known as the most sought after firm for residential architecture and interior design in India. Kreative House is famous for Design and Execution of Luxury and Green High end Residences without compromising on innovativeness in design and quality in execution".