When it comes to kitchen design, the countertop is a crucial element that can truly transform the look and functionality of your space. It's not just a surface for food preparation; it's also a statement piece that can set the tone for your kitchen's style. With advancements in technology and design, there is a constant evolution in kitchen countertop materials. In this blog post, we will explore the latest kitchen countertop materials that are gaining popularity for their durability, aesthetics, and functionality.
Quartz Countertops
Quartz countertops have become increasingly popular due to their versatility and low-maintenance characteristics. Comprised of 90-95% crushed natural quartz crystals mixed with resin, these countertops are highly durable and resistant to stains, scratches, and heat. They come in a wide variety of colors and patterns, often mimicking the look of natural stone like marble and granite. The non-porous surface of quartz also makes it incredibly hygienic and easy to clean, making it an excellent choice for busy kitchens.
Wooden countertops bring warmth and a natural touch to any kitchen. While they may require more maintenance than some other materials, regular sealing can keep them looking beautiful for years. Wood is an excellent choice for creating a cozy, inviting atmosphere, especially in traditional and farmhouse-style kitchens.
Eco-conscious homeowners are turning to recycled glass countertops, which are made by embedding colorful glass pieces in a resin or concrete base. These countertops offer a unique, shimmering appearance and are environmentally friendly. They are easy to clean and maintain, making them a sustainable choice for your kitchen.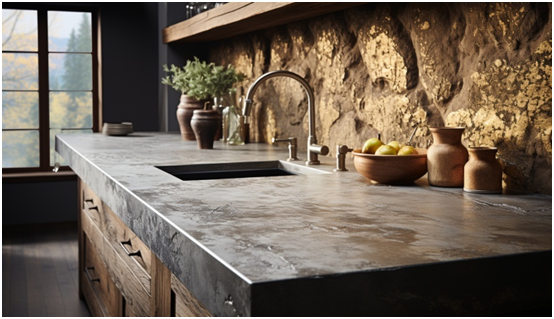 Concrete countertops are gaining popularity among homeowners seeking an industrial or rustic aesthetic. These countertops are highly customizable, allowing you to choose the color, texture, and shape that suits your kitchen's style. While concrete countertops require proper sealing to prevent staining, when maintained correctly, they can provide a unique and stunning focal point in your kitchen.
Solid surface countertops, such as Corian and LG Hi-Macs, continue to be popular due to their seamless appearance and versatility. They are made from a blend of acrylic, polyester, and natural minerals, resulting in a non-porous and easy-to-maintain surface. Solid surface countertops come in various colors and patterns and can be seamlessly integrated with sinks and backsplashes for a sleek and clean look.
Selecting the right countertop material for your kitchen is a crucial decision that impacts both aesthetics and functionality. The latest kitchen countertop materials offer a wide range of options to suit various preferences and lifestyles. Whether you prioritize durability, aesthetics, or eco-friendliness, there's a countertop material that's perfect for your kitchen. Remember to consider your cooking habits, maintenance preferences, and budget when making your choice. Ultimately, the latest kitchen countertop materials make it easier than ever to turn your kitchen into a functional and visually stunning space that you'll love for years to come.