A dining table is one of the most important pieces of furniture you'll buy for your home. Not only does it function as a place to eat, it's also a place for family gatherings, newspaper sprawl, and homework sessions. It can be the centre piece of a room where friends and loved ones hang out, talking and enjoy each other's company.
But before you run out and buy the first thing you fall in love with, you'll need to consider a few factors first.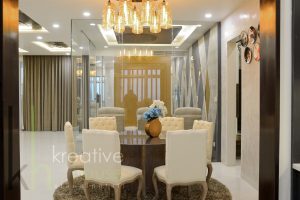 Style:
Start with your lifestyle. One of the most important considerations is how and where will you use your table?
If your table is an extension of your kitchen or family room, chances are you'll use it more often, such as for food prep, homework or crafts. You'll want something that's more casual in style with a durable surface that won't damage easily.
Obviously, your own personal style preferences—eclectic, modern, traditional—will help inform the style of table as well.
Size:
It's so important to have a table and chairs that are comfortable and fit the scale of the room.
As a general rule, allow a minimum of 90cm space between the walls or other furniture in the room and the table.
It's also important to measure the table to chair height to ensure you can comfortably sit without cutting of the circulation in your legs. Leave about 20cm from the seat to the table top, although 30cm would be more generous.
Shape:
The shape of the table is equally important in creating a beautiful and comfortable space.
Rectangular
A rectangular table is the most common shape because most dining rooms are rectangular. It's also a great shape for seating more than four people. Rectangular tables are often more flexible since many come with leaves that extend the length.
Square
A square table looks best in a square room. It's also a great solution when you have a small guest list – a large table can be off-putting. You can always put two square tables together and make a rectangular table for special occasions.
Round
A round table works well in small rooms and smaller square shaped rooms. It creates a cozy and intimate setting, so it's the best shape for a small group of people. A large round table, however, can make guests feel very far away from each other. For versatility, get one with a leaf that changes into an oval shape that accommodates a larger group of people.
 Material:
If you want a dining table to last a lifetime, choosing hardwood over materials like MDF or engineered timber is best. It may be a little cheaper to buy, but they won't be as strong and durable as a solid timber table.
Solid timber also ages well and over time the table will develop character and tell stories of rowdy dinner parties, growing children, and many delightful home cooked meals.
Glass can work well in modern spaces and those lacking in room because it allows light to filter through and visually, it isn't too heavy. Unfortunately, glass will incur some scratches and doesn't pair well with little fingers.
Marble is another option for a strong dining table that will last and work well in both a contemporary and traditional setting. Pay close attention to the table sealant, as a nasty red wine stain will ruin the entire top. Also consider how often you might move, marble is not only extremely heavy, it's also costly. So you wouldn't want to take the risk of dropping or knocking the top very often.
Visit www.kreativhouse.asia for more design inspirations…