Your home is a reflection of your personality and style, and choosing the right interior design style can help you create a space that feels both comfortable and aesthetically pleasing. Over the years, various design styles have emerged, each with its unique characteristics and charm. While trends come and go, there are certain interior design styles that have stood the test of time, remaining popular and relevant for decades. In this blog post, we will explore 10 timeless interior design styles that you can consider for your dream home.
Traditional interior design is characterized by classic and elegant elements. It often features rich colors, ornate furniture, and intricate patterns. Think of plush sofas, antique pieces, and chandeliers. This style evokes a sense of warmth and nostalgia, making it perfect for those who appreciate timeless charm.
2. Modern
Modern design is all about simplicity and clean lines. It focuses on functionality and often incorporates materials like glass, metal, and concrete. Minimalistic furniture and open spaces are key elements of this style. Modern design creates an uncluttered and sophisticated atmosphere.
Contemporary design is often confused with modern, but it's a style that evolves with the times. It's characterized by the use of current trends, innovative materials, and a mix of different design elements. Contemporary spaces are sleek, minimalistic, and often incorporate bold colors or striking artwork.
Industrial design draws inspiration from factories and warehouses. It features raw materials like exposed brick walls, steel beams, and concrete floors. This style embraces the beauty of imperfections and celebrates the rugged aesthetic of industrial spaces.
Scandinavian design emphasizes simplicity, functionality, and minimalism. It often features a neutral color palette, natural materials like wood and leather, and plenty of natural light. This style creates a cozy and inviting atmosphere that's perfect for colder climates.
The mid-century modern style is a tribute to the design trends of the mid-20th century. It's characterized by clean lines, organic shapes, and a blend of different materials such as wood, plastic, and metal. Iconic furniture pieces from this era, like Eames chairs, are often incorporated into mid-century modern interiors.
Rustic design brings the charm of the countryside into your home. It features natural materials, earthy colors, and vintage or handmade furniture. Exposed wooden beams, stone fireplaces, and cozy textiles are common elements in rustic interiors.
Transitional design combines elements of both traditional and modern styles. It strikes a balance between classic elegance and contemporary simplicity. This style is versatile and can suit a wide range of tastes and preferences.
Coastal design is inspired by beachside living. It features a light and airy color palette with shades of blue and white, as well as natural textures like wicker and rattan. Coastal interiors create a relaxed and breezy atmosphere reminiscent of a beach vacation.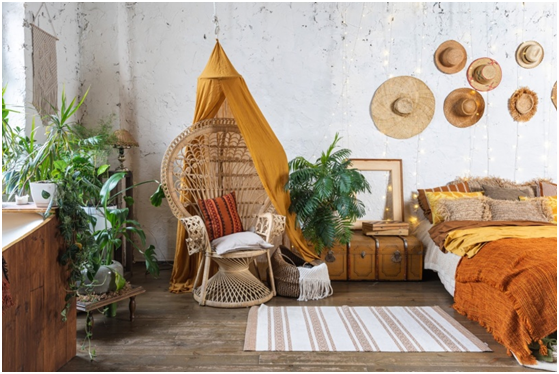 Bohemian design is all about self-expression and creativity. It's a colorful and eclectic style that mixes patterns, textures, and cultural influences. Bohemian interiors often include a mix of vintage and handmade items, creating a unique and personalized space.
When choosing an interior design style for your home, it's essential to consider your personal preferences, lifestyle, and the architectural features of your space. You don't have to stick to one style exclusively; many homeowners opt for a blend of styles to create a unique and inviting environment. Remember that timeless design is about creating a space that you'll love for years to come, regardless of changing trends. So, take your time, explore different styles, and create a home that truly reflects your personality and taste.
Please feel free to contact me if you need any further information. Please let me know if you have any questions.
Mobile/WhatsApp No: +91 9963-277-542
Email: info1@kreativehouse.asia
Address 1: Flat No.302, 1st Floor, Sree Homes, Plot No.51, M.B.Society, Hitech City Main Rd, Hyderabad, Telangana 500084.
Address 2: Regus Pune Metropolitan Business Centre Pvt Ltd, Baner, Pune 411045
Subscribe to Kreativehouse:
YouTube: www.youtube.com/channel/UCLYGdZagVC7I8vSaS4-7iyg
Like us on Facebook: www.facebook.com/kreativehouse.asia
Follow us on Linkedin: www.linkedin.com/company/kreative-house
Follow us on Twitter: www.twitter.com/KreativeHousee
Follow us on Pinterest: www.pinterest.com/Kreative_House
Follow us on Instagram: www.instagram.com/kreative_house_hyd_pune
View Blogspot: www.kreativehousehyderabad.blogspot.com