You know what they say about first impressions– Your entryway is the first impression to your home. It should reflect your style, create a warm welcome and also function as a thoroughfare.

Flooring:
Giving good consideration to your flooring in your home's entrance could be one of the best investments you make. High traffic areas require hard-wearing floors that won't buckle under the pressure and look tired.   Tiles are durable and can also create an impressive visual impact, allowing you to be a little more playful with the space. And don't forget to take advantage of rugs to add a touch of colour and texture to the space.
 Light
Lighting up this space provides a more welcoming atmosphere and creates ambience when your guests walk through the front door.
Natural light is always best. Maximize any windows in the space by removing heavy curtains and hanging sheer blinds instead. For those without windows, adding skylights is a great way to capture the sun's rays and carefully positioning a mirror to reflect the light will be beneficial.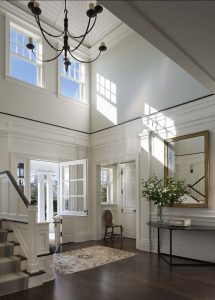 Walls
Entrance spaces are the perfect place to be a little playful with your walls, especially if space is at a premium. Consider using patterned wallpaper, bold color or hanging large scale artworks or photographs. Before you start on your bold statement, make sure you assess the scale of your space.
If your entrance is a long narrow hallway with a lack of natural light, think about using a lighter colour scheme to open up the space and adding accessories to incorporate colour.
for more ideas visit www.kreativehouse.asia