It would be easy to conclude that different people like different things, but sometimes a single person may like many different things too. You might be in love with antique furniture but, at the same time, a modern piece may catch your attention too. This doesn't mean that you have to change the way you have decorated your home, you just need to find a way to mix these styles.
Although this idea is very thought provoking and unique, but it might sometimes be hard to pull off. Following are some easy tips that might help you merge traditional and modern décor in a subtle and brilliant way.
Unbalanced Beauty
Well, the usual concept denotes that our interior design should create a well maintained balance and harmony. Although, this does not mean that we have to achieve a 50-50 ratio with both types of décor. If you are thinking about mixing both the décor style in an equal proportion, then you might end up with an interior which looks confused and is poorly designed. So make sure you choose one décor style as a dominant one and incorporate the second décor style with help of smaller furniture pieces or decorative accessories
Surprising Colour and Bold Upholstery
One of the easiest way to include a traditional vintage piece into a modern décor is by updating it. But do not renovate antique furniture to its novel form. You can give a contemporary touch to the old furniture pieces with the help of fresh coat of paint and brand-new upholstery. For old accessories, you can use funky fabrics, patterns, unconventional colours for a modern update.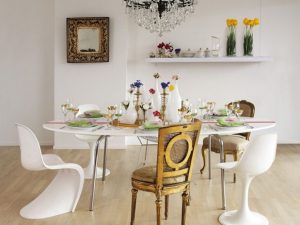 Mixing Woods
When mixing traditional and modern décor, mixing woods is an important factor. For a formal look, consider mixing mahogany, cherry and oak. For casual look, mix pine, maple and bamboo.
Mixing Rugs and Carpets
If you have an open space and you require more than one rug, be sure to select carpets that complement rather than matching. So consider various styles in modern and traditional patterns and choose the ones that harmonize each other for a brilliant looking décor.
Complement and Beautify
A modern family room that is dressed up with monochromatic neutral fabrics should be complemented with some large floral patterned pillows to add a touch of traditional décor. Similarly, a traditionally setup space filled with patterns needs some space to breathe, so incorporate solid spans of color.
Here kreative House provides the most popular designs around the world and could become an essential part of your design room too.
Please feel free to contact me if you need any further information. Please let me know if you have any questions.
Mobile/WhatsApp No: +91 9963-277-542
Email: info1@kreativehouse.asia
Address 1: Flat No.302, 1st Floor, Sree Homes, Plot No.51, M.B.Society, Hitech City Main Rd, Hyderabad, Telangana 500084.
Address 2: Regus Pune Metropolitan Business Centre Pvt Ltd, Baner, Pune 411045
Subscribe to Kreativehouse:
YouTube: www.youtube.com/channel/UCLYGdZagVC7I8vSaS4-7iyg
Like us on Facebook: www.facebook.com/kreativehouse.asia
Follow us on Linkedin: www.linkedin.com/company/kreative-house
Follow us on Twitter: www.twitter.com/KreativeHousee
Follow us on Pinterest: www.pinterest.com/Kreative_House
Follow us on Instagram: www.instagram.com/kreative_house_hyd_pune
View Blogspot: www.kreativehousehyderabad.blogspot.com