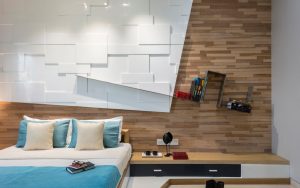 Feature walls are a simple yet high impact way to transform any room in your home. Today, the feature wall is updated and experiencing a comeback. With more imaginative choices for colors, finishes and textures, the modern feature wall not only adds interest to an otherwise plain space, but also is a functional and beneficial design element.
Today we are presenting you the tips to transform your walls using textured cladding
Natural stone cladding
Recent trends have favored this natural look for its rustic textures and neutral yet diverse color palette. Limestone, sandstone, granite or even manufactured stone surfaces can all inject a gentle earthy feeling to your space.  Stone works well when combined with other natural elements like timber flooring, woven rugs and soft linen upholstery to maintain a feeling of coziness.
Timber cladding

Timber cladding offers unique warmth to any space and is available in a stunning range of species. These sophisticated natural timber options bear little resemblance to the tongue and groove or sixties paneling of yesteryear.  They are available in different veneer cuts to highlight the natural grain, can be manufactured in irregular shaped panels and installed with subtle shadow lines to highlight the individual panel placements. Screen wood is another attractive timber cladding option and can be installed on both walls and ceilings for a clean linear effect.  Natural timber is ideal for low moisture zones such living, dining or bedrooms and thanks to the wide range of species color options available can be used to create beautifully coordinated and styled interior schemes.
Tile cladding
In recent years the finishes, colors, shapes and sizes available in tiles has become increasingly impressive.  Slick new rustic surfaces combined with metallic accents, highly polished porcelains in soft sludgy tones, and even tiles that resemble timber boards – in both color and texture! New mosaic tiles are shifting shape and can now be found in a huge variety of patterns, colours and even combinations of 2 or more different materials.  Many floor/wall tiles also have matching mosaic patterns so you have the option to retain a singular colour scheme yet introduce interest by using a contrasting shape.
3D Board wall cladding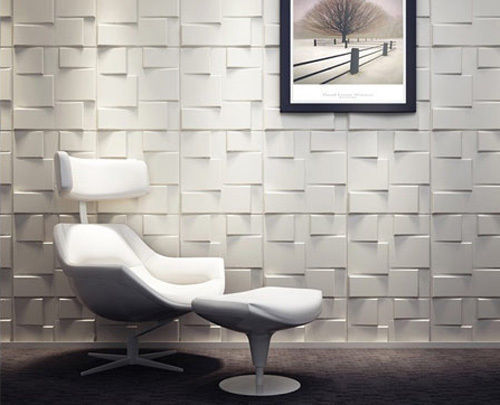 Whether you prefer the rustic charm of handmade coconut mosaic, or the gentle flowing pattern found in sculpted wall panels there is a 3D wall cladding option to suit your room.  The beauty of a product like the coconut mosaic tiles is that they can be purchased in packs and easily installed at home for an instant transformation.  Sculpted wall panels are custom made in the pattern and size you require out of raw MDF.  These can either be finished by the manufacturer in a vinyl or metal coating or can be primed and painted your desired colour after installation.  Grids of upholstered panels wrapped in fabrics like suede, leather and silk are popular options to give a hotel like feeling to master suites and media rooms.  The fabric panels also enable you to re-introduce the selected fabric in your decorating through custom lampshades or cushions.  And fabric panels also look great when combined with other materials like timber.