Windows for your House: No house can be complete without any windows. And the right windows can add architectural interest, enhance energy efficiency, increase the value of your home, When it comes to choosing the right windows for your houses, you might often end up being confused by the different window styles and materials available in the market. Each one has their own set of pros and cons, and thus, it is up to you to decide which one will suit your house the best.
Window Styles
The four most basic and popular window styles are:
Single or Double Hung Windows
These type of windows consist of two separate sash (the actual pane of glass in the inner frame), which open or close by sliding up or down. A single hung window opens from the bottom only by sliding up, while a double hung window can be opened from either the top or the bottom.
Casement Windows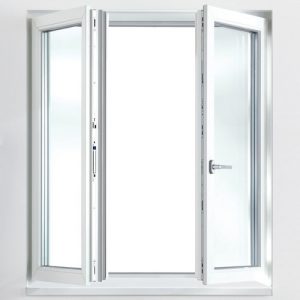 These windows usually consist of one or two large sash that's hinged vertically and opens by swinging out. Usually a lever or other mechanism is used to open this style of window.
Awning Windows
These windows are hinged at the top and opened by tilting the window out from the bottom. As their name suggests, awning window create the appearance of an awning when open. These windows are most suitable in bathrooms.
Slider Windows
These windows slide open from side to side and are an excellent choice when there is limited space outside to swing the window open.
Window Frame Materials
Once you have determined the style or type of window, next you have to consider the materials the windows are made from. The most popular window materials are
Wood Windows
For centuries, wood was the go-to material for window frames. And these wood windows are considered as the most elegant choice available. Comparatively they require higher maintenance but balance out on the royal touch they impart to the house. However, as technology has evolved other materials have slowly begun to replace this natural material.
Aluminium Windows
These are one of the most common materials used for windows. These windows can be painted according to one's wish and require very less maintenance. They are pretty slim and thus doesn't require much space. Aluminium windows have been used for a long time now and are still ruling the market. You can also get a variety of finishes done on the frames such as solid, matte or glossy.
Steel Windows
Gone are the days when one used to worry about rusting in the case of steel windows. Now there are galvanized steel windows that do not rust over decades and have the same strength as their predecessor. You will also be able to choose from a wide range of designs to meet the look of your house.
UPVC Windows
These are the new generation materials that have taken the market by storm. UPVC Windows are considered to be eco-friendly materials. They are highly thermal efficient and thus can help you in cutting down the costs of heating or cooling your home. They are also fire resistant and thus provide you with an added layer of safety. They are also known to be pretty good insulators and block the outside noise. These are one of the most affordable types of windows.
Clad Windows
If you want to enjoy the warmth and beauty of wood on the inside of your home without the extra maintenance on the outside, clad windows are the perfect choice. Choose from vinyl or aluminum on the wood frame outside without sacrificing the homey feel you want from wood windows on the inside.
Window Glass
Different Glass types have different characteristics. Depending upon the type of properties one is looking for the best and most appropriate type of glass can be chosen.
Clear Float Glass or Annealed Glass
It allows 100% penetration of light and clarity in viewing.
It is not good for sound and heat insulation.
When broken, it shall shatter into big sharp pieces of glass which can be dangerous.
Tinted Glass
Any glass that includes coloring it's called tinted glass.
Good for sound and heat insulation
When broken, it could shatter into big sharp pieces of glass which could create sharp cuts.
Toughened Glass
It is stronger and are more expensive than annealed glass.
It is available in clear, tinted forms in colors green, grey, bronze and blue.
When broken it breaks into small fragments which are harmless as compared to annealed glass.
Laminated Glass
Two glass pieces are sandwiched with an intermediate inner layer.
When broken the glass is still attached to each other hence it is harmless.
They are available in different colors.
Good for sound and heat insulation.
Low E Glass
Low Emissivity Glass has a metallic coating on it which helps in heat reflection hence makes it a good material for heat insulation.
The metallic coating could be on all types of glass and in different colors.
Double Glass
Two glass pieces (annealed or toughened glass) are separated with an air gap to form double glass windows.
Good in Sound and heat insulation.
Double Glass window are expensive.
"There may be some instances where we simply cannot picture the right windows with many options. So, it is a good idea to contact a professional who can suggest you the best windows which enhance the building exterior, energy efficiency and  increase the value of your home."
visit www.kreative house.asia for more ideas