The bathroom is the one room in the house that every member of the family has to spend time in, which is why it's so important to have a bathroom that looks great and has a lot of personality. So, while designing a bathroom, both designers and homeowners want to look for the latest trends, to the future to stay current yet maintain a timeless aesthetic. Upcoming trends not only show you what's hot now, but point to the direction of things to come as well. Here are some latest trends of Bathrooms..
Double Vanity
The double vanity has been very popular in luxury bathrooms as it offers more space for bathroom essentials and appliances. Having a relaxing ambiance in the bathroom is very important, and a dual sink vanity will offer plenty of room, both in counter space and underneath the sink.
Free standing tub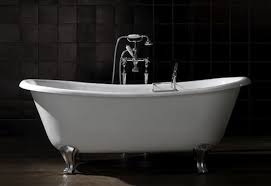 No longer a wallflower – freestanding tubs take center stage! New composite technologies have created tub shells that are stronger, more fluid and slip-resistant when wet – so cool! Almost every bath company is adding freestanding tubs to their product lines. There are sculptural shapes abound to choose from. Each one is designed to create a perfect centerpiece for your bathroom.
Lights in the shower
Shower lighting is one of the most important elements of a Luxury bathroom, both in terms of safety and functionality. Shower lighting trims can bring beautiful, functional illumination to your shower, while the built-in glass diffusers and rubber gaskets work to keep moisture at bay.
Smart toilets
When it comes to tech, there are several emerging trends that influencers see being added to the bathrooms they build and design. The most popular is the Smart toilet. Smart toilet has features like Automatic flush, Built-in sensors that alert you to possible tank leaks, Bluetooth and MP3 capabilities so you can listen to tunes, Foot warmer, Air dryer, Emergency flushing system during power outages, Slow closing lid etc…
For more ideas visit www.kreativehouse.asia