Skylights can make a major contribution to energy efficiency and comfort, and can be installed in both existing and new homes. They are an excellent source of natural light: they can admit more than three times as much light as a vertical window of the same size, distributing it evenly, saving energy and improving your visual comfort levels. Here are the different types of Sky lights you can choose from..
Fixed Skylight                  
One of the most popular types of skylight is the Fixed skylights. Just like their name indicates, these are fixed and do not open for air ventilation, basically, they are totally sealed to the roof. This type of skylight is used at low lit areas like the attics and the stairwell. Around 90 percent of the materials used in the fixed skylight is glass and the frame are made of steel, or aluminum, or timber.
Ventilated Skylight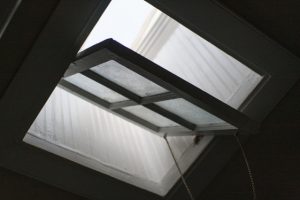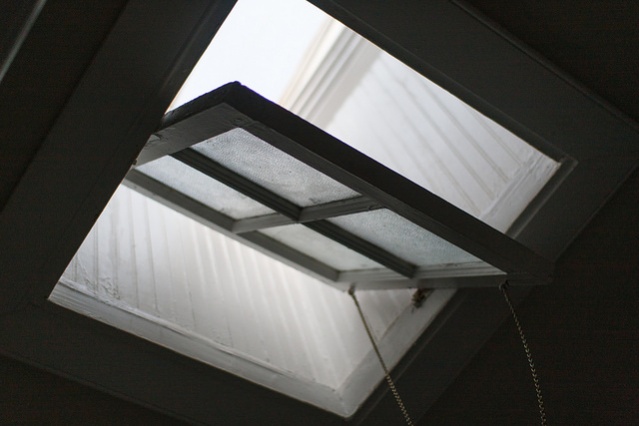 Ventilated skylight works as a source of ventilation of air and light. These are perfect for kitchen and bathrooms, as they also aid in removing excess moisture and keep a constant flow of fresh air in the living area. In addition to that, it also illuminates the place. Basically, a ventilated skylight is an addition of a new window onto the roof of your house.
Tubular Skylight
Tubular skylights are an effective product to provide natural light to both residential and commercial indoor spaces. This type of skylight consists of 3 main components:
A roof-mounted light collector – mounted on the roof and typically consists of a parabolic lens which allows for light collection throughout the day. These lenses are set into a frame.
A highly-reflective tube – The light collected is reflected through the tube to the interior fixture with diffuser lens.
An interior fixture – Occasionally this interior fixture can also be supplied with a combined electrical light as a backup for cloudy days or night-time.
These are perfect option when the roof space required for fixed or ventilated skylight is not available or scar
Custom Skylight
Custom skylights open up to the sun, air and stars. These aren't just boxes or tubes which allow natural air and light into a room but are the ones which are uniquely designed. They are beautiful, elegant windows to the sky which let in natural light, and at the same time are airtight and dry. Custom skylights are preferred when the roof condition does not allow the installation of the common type of skylight. Majorly when the visual appearance of the building needs to be improved, this skylight serves a perfect medium. These can be of any geometric shape and size and can be tailor-made as per the specific requirements.
Pyramid Skylight
Typically mounted on flat roofs, the pyramid skylights are available with several slopes or pitch options. These typically take a pyramid shape over a square opening and generally have 4 sides. While this type of skylight is commonly identified as a pyramid over a square opening, when the same is built over a rectangular opening it is known as hip ridge skylight. The other type in this category is the Multi-sided pyramids skylights, also known as polygon skylights, these can be constructed over 6 or 8 sided openings, as well as over uneven multi-sided openings.
Dome Shaped Skylight
These dome-shaped skylights are made up of robust and flexible plastics. As the name suggests, the shape of this skylight is in the form of a dome which allows sunlight to evenly spread across the room. The main plus pointer for this skylight is that it illuminates the entire room even with small streams of lights. These come in two layers for protection and insulation, a thick outside layer is tainted and the inside thin layer is clear material. Dome skylights are suitable for both residential and commercial applications. These may also be used to advantage in building entrances to enhance lobbies or spotlight attractive features like murals, sculptures, planters, paintings, reflecting pools and much more.
Curb-Mounted Skylights
These skylights have proven to be one of the most popular styles of skylights available in the market. They are relatively affordable and go really well in any type of room setting. Curbs are either built on-site or can be provided by the skylight manufacturer. In both cases, a curb needs to be double-walled and insulated to help retain heat in the home. These are a greater choice to avoid leaks. In addition to that these allow for more flexibility in size. Curb mounted skylights are the simplest of all skylight designs; these provide a refreshing environment without adding much stress to a building's structure.
Here kreative House provides the most popular designs around the world and could become an essential part of your design room too.
Please feel free to contact me if you need any further information. Please let me know if you have any questions.
Mobile/WhatsApp No: +91 9963-277-542
Email: info1@kreativehouse.asia
Address 1: Flat No.302, 1st Floor, Sree Homes, Plot No.51, M.B.Society, Hitech City Main Rd, Hyderabad, Telangana 500084.
Address 2: Regus Pune Metropolitan Business Centre Pvt Ltd, Baner, Pune 411045
Subscribe to Kreativehouse:
YouTube: www.youtube.com/channel/UCLYGdZagVC7I8vSaS4-7iyg
Like us on Facebook: www.facebook.com/kreativehouse.asia
Follow us on Linkedin: www.linkedin.com/company/kreative-house
Follow us on Twitter: www.twitter.com/KreativeHousee
Follow us on Pinterest: www.pinterest.com/Kreative_House
Follow us on Instagram: www.instagram.com/kreative_house_hyd_pune
View Blogspot: www.kreativehousehyderabad.blogspot.com