Flooring adds an aesthetic appeal and improves the value of your home. Unlike furniture and fittings that can be changed on a regular basis, flooring is a fairly permanent component of your home decor. Changing the flooring is an extensive, expensive, and tedious undertaking. Hence, it's important to understand your needs and make an informed decision in your favour.
Different types of flooring materials are available in the market, each having their own pros and cons. The wide variety of flooring materials available in the market can make it tough for you to choose the most suitable one for your home.
Though choosing the flooring for your home is a matter of personal preference, you should consider the below-mentioned factors too.
Lifestyle
Advantages with respect to its usage and function
Quality
Ease or difficulty of installation
The level of finishing needed
Maintenance and cleaning
Budget
Expected foot traffic on the Flooring
Here are a few types of flooring materials which modern homeowners use these days.
(A) Tiles Flooring :
The tile flooring is a popular option among homeowners as it's highly versatile and comes in a variety of colours, textures, and patterns.
Flooring Tiles are available as vitrified tiles, ceramic tiles, porcelain tiles, and many more. Let's understand each type in detail.
01. 
Ceramic tiles are made of a mix of clay and water. These tiles are a great modern flooring option, used indoors and outdoors.Ceramic tiles are ideal for installing in moist areas like bathrooms and kitchens as these tiles are not as slippery as compared to vitrified tiles
02. 
A vitrified tile is a type of ceramic tiles with lower porosity. Vitrified tiles are most commonly used in areas with high foot traffic like the living room, kitchen, or bedroom. These tiles are made with a typical glossy finish. However, these days vitrified tiles with a matt finish are also available.
Owing to their popularity, a wide variety of vitrified tiles are available today.
Full body vitrified tiles display unique pigment through the entire thickness of the tile body. Therefore, these tiles are scratch-proof. Further, during the tile cutting process, the borders can be created with the same tiles to create a cohesive effect.
Double-charged vitrified tiles are fed through a press that prints the pattern with a double layer of pigment (two kinds of colours are fed into the machine). Therefore, the upper layer becomes 3 to 4 mm thick. This tile is a viable option for the medium to heavy-traffic areas in your home. Price-wise, these tiles are cheaper than full body vitrified tiles.
These are vitrified tiles that get printed with the screen-printing technology and then polished to give them a unique look. So, after using liquid colour for screen printing, the tile is subject to high pressure wherein the soluble salt liquid is infused to give them a specific colour and pattern. Hence, the name soluble salt vitrified tiles.
Glazed Vitrified Tiles (GVT) offers a glazed surface, which makes it an ideal choice for many types of interior designs and surface textures. Since these tiles boost the aesthetic appeal of the interiors, they are widely preferred by homeowners and interior designers.
03. 
Porcelain tiles are a special type of vitrified tiles. Presently, the use of these tiles has become limited. In the recent past, porcelain tiles were popularly used in the living room as well as in bedroom flooring. These tiles are stain-proof and moderately water-resistant.
:
Stone flooring is natural, beautiful, and make an excellent focal element for a house. They are durable in comparison to synthetic or manmade stone options. Different types of natural stones are available today, namely granite, marble, limestone, slate, travertine, and sandstone among others. Though each of them has unique characteristics, they are hard by nature. Since they are naturally cool, they are ideal for houses located in warm and tropical climatic conditions.
As per the 'Natural StoneCouncil', "Granite, Marble, and Slate can last up to 100 years with proper maintenance." All the natural stones need minimum maintenance support or polishing to retain its beauty. Being natural, the shade and colour variation across the different pieces may vary. But that's unavoidable. Lastly, the tile edges need to be chamfered the edges before fixing them on the floor. Since these tiles are heavy, the amount of dead load of the structure is significantly high.
1
Marble is a metamorphic rock. When properly finished, marble adds a grandeur appeal to the home interiors. This makes it a luxurious option for home flooring. As share by 'Donald Watson,' (the famous author of Time Saver Standards for Building Materials & Systems), marble is classified in four grades, namely Grade A, Grade B, Grade C, and Grade D. These grades define the quality of marble.
Marble flooring is very common in residential and commercial buildings, temples, hotels, and hospitals. It comes in different colours, such as pink, white, brown, black, and green. According to the 'CPWD Specifications', the most popular marble categories available in India are Makarana Marble, Ambaji Green Marble, Kesarayaji Green Marble, Rajnagar Plain White, and Udaipur Green Marble.
Italian marble, though expensive, is widely used because of its superiority an attractive appeal. Owing to its glamorous appeal, the Turkmenistan marble is also popular worldwide.
05. Granite Flooring
Granite is an igneous rock that's used as a dimension stone for residential and commercial buildings. Granite flooring is a type of natural stone flooring that's ideal for installing in the kitchen and the surrounding areas. Granite is also used in outdoor areas like driveways, stair treads, and swimming poolside. Though it's a natural stone, granite flooring does not feel as cold as marble. Jhansi Red, Sindoori Red, and Baltic Brown are some of the popular granite varieties available in India.
06. Limestone Flooring
Limestone flooring is known for its naturally-attractive texture. Limestone is a sedimentary rock that often features fossilized patterns, making it a perfect choice for bathrooms, dining rooms, and hallways. Kota blue, Jaisalmer yellow, and natural black are the popular limestone varieties available in India.
Listed below the popular limestone used in flooring mostly in India:
6.1 Kotah Stone Flooring
Kotah Stone is one of the most popular limestone varieties used for flooring in India. It is cheaper than marble and often used in the lobby, balcony, and pathways. It is not as attractive as marble and granite flooring.
Cleaning of Kota stone flooring is not difficult if the stones are polished adequately. Nowadays, with mirror polishing, they look pretty attractive. This stone flooring is known for its durability and long service life.
Normally, polished Kota stones are slippery; therefore, they cannot be used in public places like hospitals, corridors, or schools. In such areas, rough Kotah stone is used to avoid accidental slips and falls.
6.2 Travertine Flooring
Travertine is another type of limestone flooring. Nowadays, the travertine is one of the softest flooring available in the market. It is characterized by pitted holes and troughs; but these anomalies are often filled before honing or polishing, to get a smooth surface finish. This stone is a popular modern flooring option for kitchens and bathrooms.
Travertine flooring can be more susceptible to staining than granite or marbles. Hence, these tiles demand periodic cleaning and maintenance. To get more information on travertine floor, read: Travertine Floor to Increase Beauty of your Home Decor!
07. Sandstone Flooring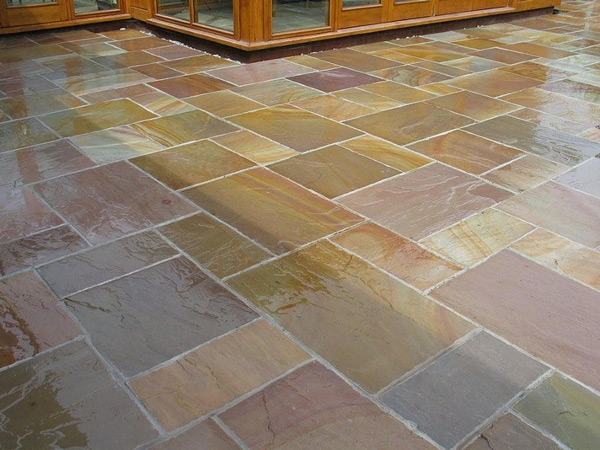 Sandstone flooring is composed of loose grains of quartz sand that render a rough texture to the tile. Its inherent natural beauty makes sandstone flooring a great option for interior floors as well as exterior decoration including flooring, paving, or parking. Some of the popular sandstone in India are Jodhpur Pink, Agra Red, Dholpur Red, Rajula Pink, and Dhrangadhra.
08. Slate Flooring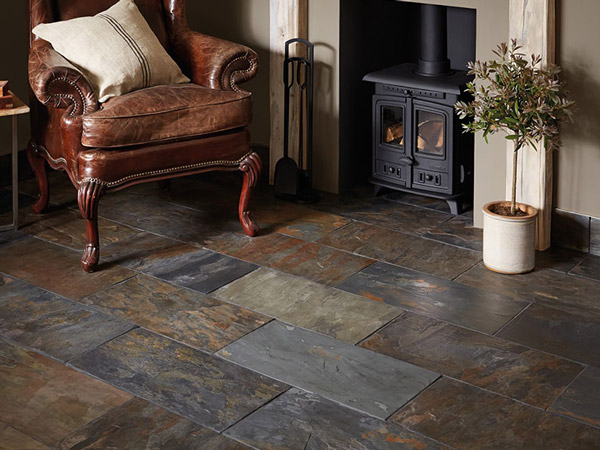 Slate flooring is made of metamorphic rock that was formed in layers. This makes it easy to split into thin sheets that can be cut into tiles. Rough and rugged surfaces of slate flooring are perfect for entryways, patios, and kitchens.
This flooring is soft and somehow brittle and does not have a long life. However, slate flooring looks attractive because of its shine and texture.
Kund Rustic, Himachal black, Raja Red, and Shimla white are the popular slate stone brands available in India. According to the 'Indian Bureau of Mines,' slate is a low-cost alternative to granite and marble with considerable durability. This is the reason slate stone flooring is quite popular. However, due to its porosity, it often change its colour.
(C) Wood Flooring
Wood flooring is an age-old traditional type of flooring material; however, it renders a timeless appeal to the house because of which it continues to be in vogue. It is commonly used in hilly areas and in damp places. Wood flooring is available in strips, thin blocks, and planks from various softwoods and hardwoods. As stated by 'Donald Watson' (published in Time Saver Standards for Building Materials & Systems), with proper care and maintenance, wood flooring may last for 50 years or more. Since most wooden flooring types are expensive, very few are able to afford it.
Here are the most common types of wooden flooring available today.
09. Solid Wood Flooring
Solid wood flooring is made from a piece of wood and usually built with a thickness of around 20 mm. Solid wood flooring can be used in any room, except the moisture-prone areas such as kitchen, bathrooms, and basements.
10. Engineered Wood Flooring
Engineered wood flooring is made with the core of plywood and a layer of solid wood attached to its top. Besides other rooms, it can also be installed in the cooking area too. Engineered wood flooring offers an attractive look, which is somehow more appealing than common laminate wood flooring.
11. Laminate Wood Flooring
Laminate wood flooring is produced by placing a layer of a photographic image of natural wood on a fiberboard. As it is a synthetic product, it does not give the look and feel of natural wood. Laminate wood flooring can be installed in any room such as the living room, bedroom, and dining room except wet areas like the bathroom and laundry rooms. Since their thickness is low, laminate floor planks are light-weight.
(D) Mosaic Flooring
Mosaic flooring is made of small pieces of coloured stones, tiles, or glass to render an artistic appeal to the home decor. Mosaic can be arranged in different patterns and colours using coloured cement.
Here are the common types of mosaic flooring:
12. Cement Mosaic Flooring
Cement mosaic flooring is precast tiles which are made by cement concrete and coloured stone chips embedded into it. This flooring material is mostly used in rooms having high footfall, like the living room, bedroom, and kitchen. This flooring variety lasts long and isn't very slippery.
Cement mosaic flooring option was the commonest type flooring before vitrified tiles came into the market. Besides durability, this flooring is easy-to-install and budget-friendly.
13. China Mosaic Flooring
China mosaic flooring is a vintage type of flooring. Mosaics are made from small round pieces of ceramic or porcelain tiles. This flooring can be used to create attractive and interesting patterns. China mosaic flooring is mostly used on rooftops, the terrace area, and outdoor areas like the patio.
It's falsely believed that these tiles have a waterproof layer. However, that's not the case.
14. Glass Mosaic Flooring
The glass mosaic flooring comprises of multicoloured glass stones, ceramic tile called tessera embedded in background material such as mortar. These tiles have a multicoloured block in them with a glass finish that makes them shine.
You can use them in the kitchen, bathrooms, bedrooms, and swimming pools. These types of flooring materials are resistant to stains and mould and are available in a range of attractive colours.
(E) Miscellaneous Types
There are also other types of flooring materials available in the market which are mostly used in commercial or other applications, i.e. epoxy flooring, acid-resistant flooring, metal flooring, linoleum flooring and others.
Let's understand each of these flooring materials in detail.
15. PVC or Vinyl Flooring
PVC flooring is also known as vinyl flooring. These types of flooring material offer ultra-smooth top surface and an uneven lower surface. Vinyl flooring is a resilient flooring option because it is capable of returning to its original shape or position after being compressed. Vinyl flooring is a good choice for areas that are prone to spills and moisture such as kitchens, bathrooms, laundry rooms, and office areas. They are available in sheet or tile form. They are perhaps the most lightweight flooring material available today. But these tiles are prone to scratches and stains. According to 'Donald Watson,' author of Time Saver Standards for Building Materials & Systems, vinyl flooring can last up to the 10 to 15 years with periodical maintenance.
We have also written a detailed article on vinyl flooring, read here: 15 Things to Know Before Installing Vinyl Flooring or PVC Flooring
16. Terrazzo Flooring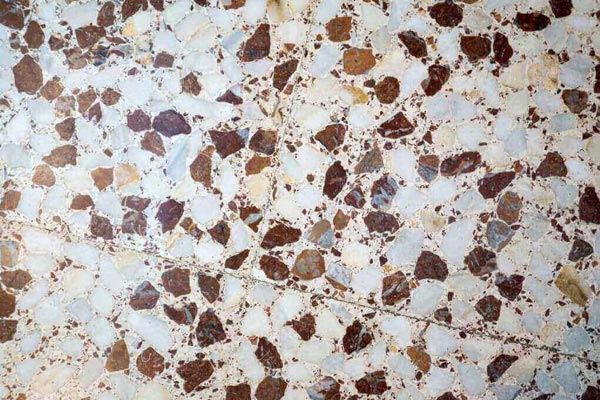 Terrazzo flooring is a concrete surface with at least 70 percent of marble, granite, or quartz chips and 30 percent of either white, grey, or pigmented Portland Cement embedded in it. Terrazzo is either poured (like concrete) in situ (in your home) or readymade terrazzo tiles can be used.
Terrazzo flooring is commonly recommended for bathrooms, dining rooms, offices, and hospitals. It was the most popular material before the vitrified tiles were introduced in the market. Being jointless, these tiles look attractive. With mirror polishing easily available at affordable rates, this looks even more attractive. But it needs highly skilled labour.
17. Carpet Flooring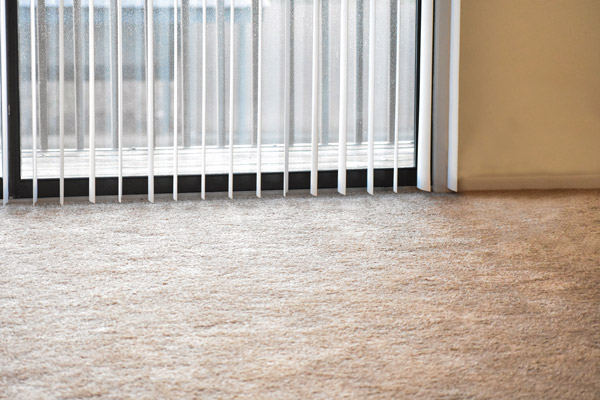 The carpet is made using wool or synthetic fibres, such as polypropylene, acrylic, nylon, wool, or polyester. It is the most versatile of all flooring options, featuring more colours and textures than the other type of flooring materials.
It is a kid-friendly flooring option widely used in children bedroom or nurseries worldwide. You can also use it also in the living room and bedroom. However, cleaning and maintaining the floor carpet is an additional effort and expense. It is popular in cold climate areas. However, if it is not cleaned frequently, it may turn dirty and exert a foul smell, hence not recommended in hot and humid areas and also in dust prone areas.
17.1 Grass Carpet Flooring
Nowadays, artificial grass carpet flooring is an extremely versatile option available to those wanting to improve their home's curb appeal. It comprises thousands of thin strips of green plastic made from rubber granules from recycled tires. Grass carpet comes in rolls of various sizes. It is popularly used indoor as well as outdoor areas such as the patio, balcony, and rooftops.
18. Cork Flooring
Cork is a natural material obtained from the outer bark of cork oak tree. It is available in the form of coloured tiles or sheets. Cork flooring is mostly used in the kitchen and dining area. This type of flooring material is absolutely environment-friendly. Cork flooring is considered a renewable and sustainable natural resource that supports a green lifestyle.
19. Concrete Flooring
Concrete flooring is one of the oldest types of flooring. It is commonly used all across the world in almost all types of buildings. Concrete flooring is extremely strong and can withstand heavy foot traffic and loads. With the support of the latest polishing machines, concrete floors can be semi-polished and coloured with pigments too.
20. Brick Flooring
Brick flooring is one of the oldest types of flooring materials. It is majorly used in courtyards, stores, and godowns. Brick flooring is durable and provides a sufficiently hard floor surface. It provides a non-slippery and fire-resistant surface, which is safe and functional.
21. Glass Flooring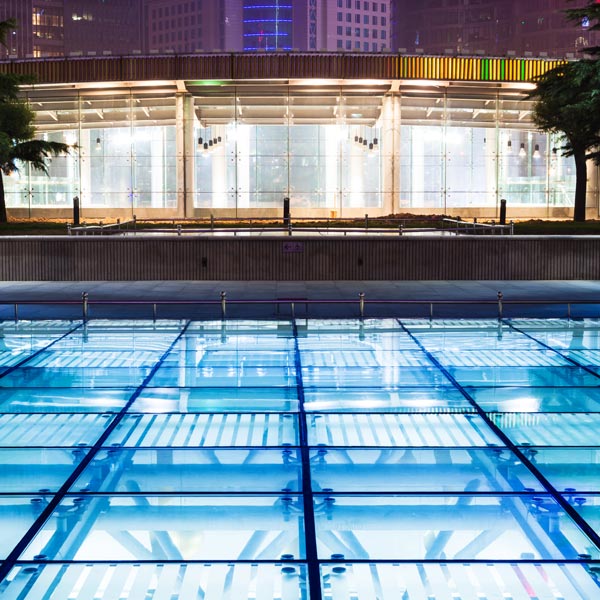 Glass flooring is not very common. It is mostly seen in aristocratic buildings, both residential and commercial. The main objective behind installing glass flooring is to have smooth and pleasing surface and make the building stand out from its surroundings. Glass flooring is generally bacteria-free and highly dirt-resistant.
Before you finally opt for a suitable flooring option for your abode, don't forget that you and your loved ones will be using it almost every minute spent at home. So, let your choice be inspired by logic, not impulse. Select the flooring based on your lifestyle, ease of maintenance, and budget.
Please feel free to contact me if you need any further information. Please let me know if you have any questions.
Mobile/WhatsApp No: +91 9963-277-542
Email: info1@kreativehouse.asia
Address 1: Flat No.302, 1st Floor, Sree Homes, Plot No.51, M.B.Society, Hitech City Main Rd, Hyderabad, Telangana 500084.
Address 2: Regus Pune Metropolitan Business Centre Pvt Ltd, Baner, Pune 411045
Subscribe to Kreativehouse:
YouTube: www.youtube.com/channel/UCLYGdZagVC7I8vSaS4-7iyg
Like us on Facebook: www.facebook.com/kreativehouse.asia
Follow us on Linkedin: www.linkedin.com/company/kreative-house
Follow us on Twitter: www.twitter.com/KreativeHousee
Follow us on Pinterest: www.pinterest.com/Kreative_House
Follow us on Instagram: www.instagram.com/kreative_house_hyd_pune
View Blogspot: www.kreativehousehyderabad.blogspot.com